Strike Off Timeline
Striking off is the most common mode of closure, but it can be complex and uncertainty may arise. In this article, it further elaboration on the Strike off process.
ZEROISED FINANCIAL STATEMENTS
The company must prepare zerorised financial statements/management accounts prior to the application for strike off to show that the company has not commenced any business since incorporation or has ceased trading.
The Balance Sheet must be zeroised to show that there are no assets and liabilities (current/future)
TAX CLEARANCE
The company must not have any outstanding tax liabilities with IRAS. Aside from this, the company should also ensure it is not:
(a) a party to any ongoing or pending proceedings (whether civil or criminal) before a court, whether in Singapore or elsewhere;
(b) subject to any ongoing or pending regulatory action or disciplinary proceeding; and
(c) indebted to any other Government Agency.
Please do not close the company's bank accounts until all outstanding matters are settled. Once the company's bank account is closed and there is a tax credit owing to the company, IRAS will not be able to pay over the tax credit to a third party (e.g. director, shareholder).
If the company did not sign up for any of our accounting plan, Sleek is able to assist with the UFS and Tax Clearance on your behalf for a fee.
DOCUMENTS RELATING TO STRIKING OFF APPLICATION
Once both UFS and Tax clearance have been done, Sleek will be able to prepare the necessary documents relating to the striking off application:
Board resolution - to be signed by all directors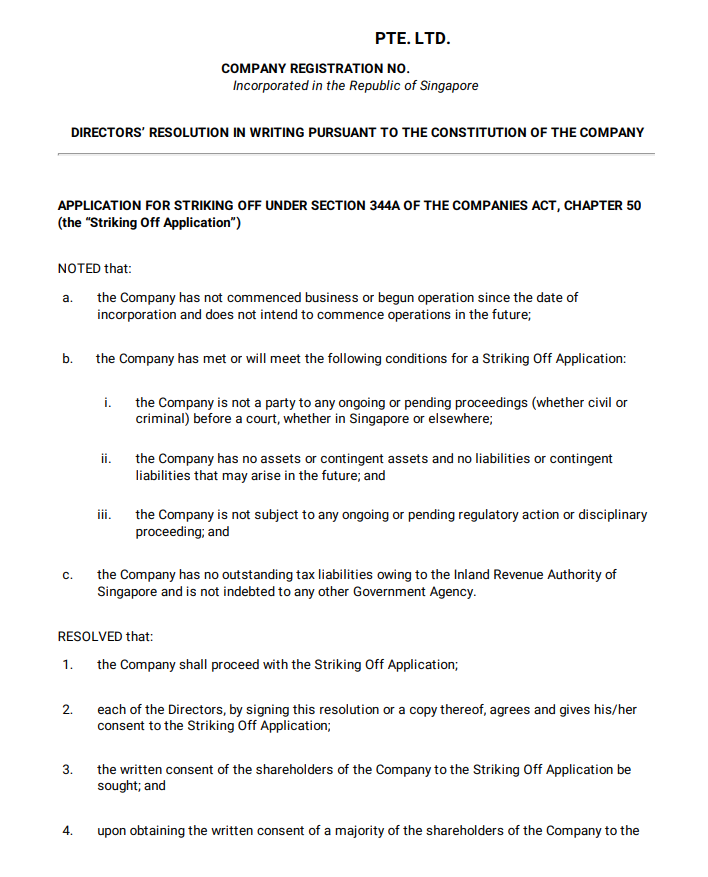 Letter of Consent - to be signed by each shareholder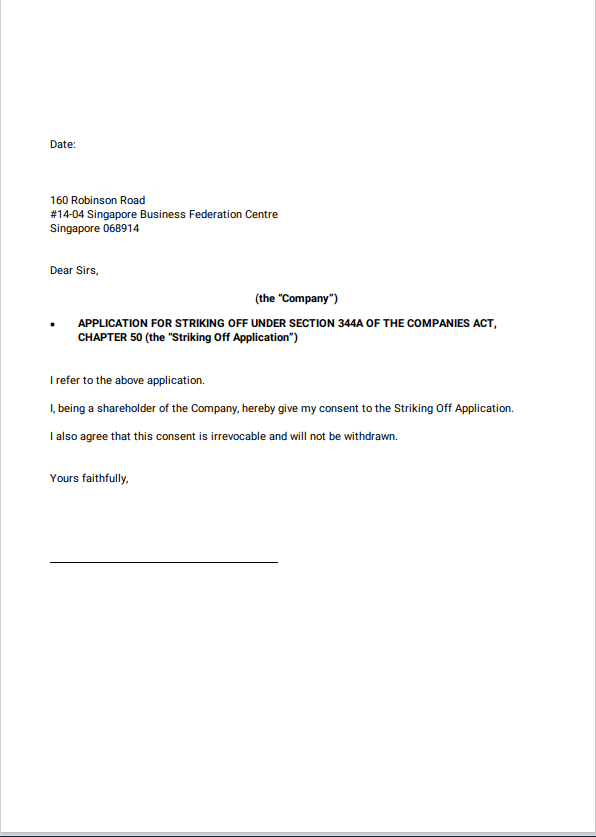 Letter of confirmation - to be signed by one director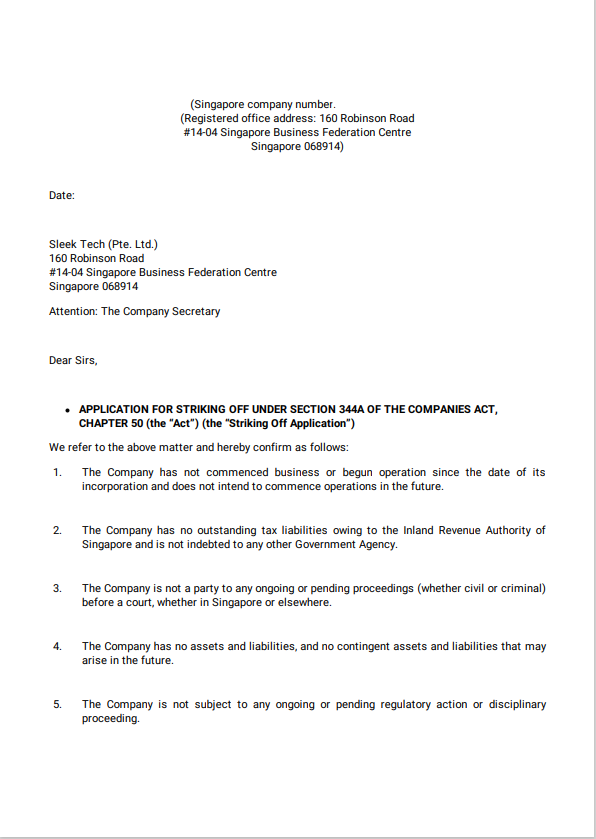 STRIKE OFF LETTER/FIRST GAZETTE
ACRA will issue a letter on the striking off application and publish the first gazette 30 days from the date of application/letter.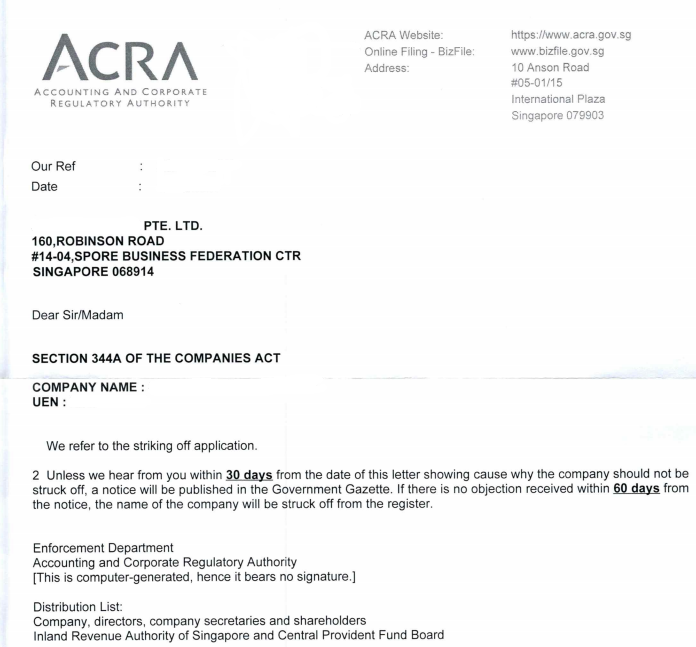 STRIKE OFF LETTER/FINAL GAZETTE
If there is no objections to the striking off, ACRA will issue afinal letter and publish the final gazetted after 60 days from the issue of the first gazette notice and the name of the company will be struck off from the register.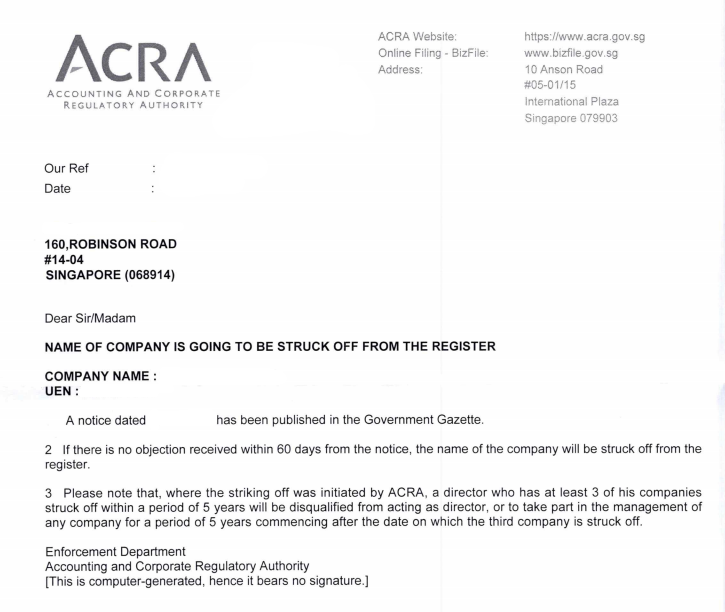 OFFICALLY STRUCK OFF
If there are no further objection, ACRA will issue a notice to inform of the company has officially been struck off.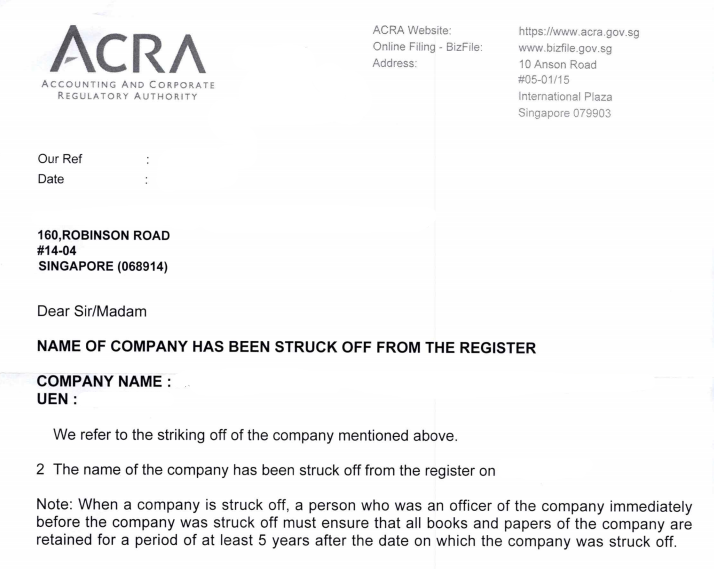 ---
Did this answer your question?
---