My certificate of incorporation
A certificate of incorporation is a document that stipulates the legal formation of a company or a corporation.
What information does the certificate have?
The incorporation certificate for any company registered with the Singapore Accounting and Corporate Regulatory Authority (ACRA) includes the information below:
Company name
Unique Entity Number (UEN)/ Registration number
Incorporation date
Nature of the business entity (private limited, public limited and so on)
Former names of a company (if possible, add up yo five former names)
Companies act
All of the details listed above are of the essential importance and can be found on the official issued certification paper that confirms the incorporation.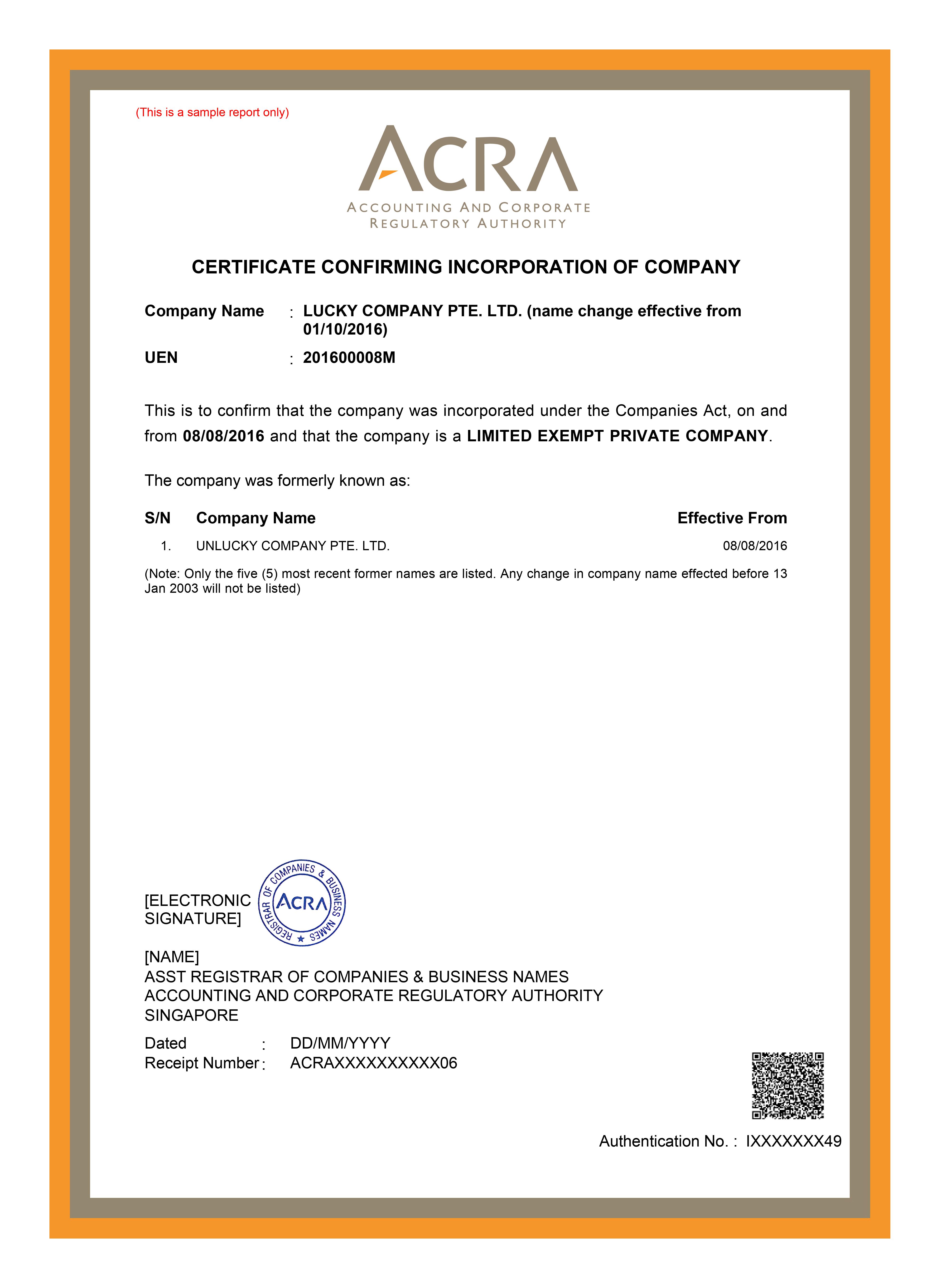 Above is a sample of certificate of incorporation. (Source: bizfile.gov.sg)
Who issues the certificate of incorporation?
The responsible authority in Singapore is ACRA. This is the country's Registrar of Companies.
It issues an e-notification of incorporation following a successful incorporation procedure. The e-notification is emailed to the officers of the company and the person in charge of the incorporation filings.
Why is the certificate important?
The certificate of incorporation is usually required when a company is engaging in any kind of trading agreements or business contracts.
This legal document is also needed when a Singapore company is involved in a transaction with overseas government or agencies of the government. 
The transacting parties can and may require the certificate just to validate the existence and nature of the entity involved.
Where and how do I get a certificate of incorporation for Singapore?
In order to obtain an ACRA certificate of incorporation that confirms a company is incorporated and has a sign of an ACRA officer, there are a few steps you need to take care of.
Visit the BizFile website.
Click on the 'Buy Information' tab, then go to "certificate".
Select the option you need and follow the instructions from there. 
Notes:
Take note that in order to purchase it, you would need to either use your SingPass or click on "I don't have a SingPass" and then provide your name, email address and contact number.
Once you make a payment that covers the fee, you can download the electronic version of the certificate. Alternatively, the website will send you an email with the download link for the certificate within 30 minutes following your successful payment. 
If the document is needed in hard copy, it can be acquired via the ACRA BizFile portal following a similar process.
The hard copy of the document shall be available for collection at the ACRA reception on the next working day (24 hours after making a payment). It is also possible to request the corporate regulatory authority to post the document to a specified address.
The fee of purchasing the Certificate of Incorporation on BizFile SGD 50.
You can contact Sleek team and we can help purchase it for you at the same price.
---
Did this answer your question?
---